At the beginning of June, Schaeffler Group stated in a high-profile manner that it wanted to open up the Chinese truck market in a brand-new attitude, and held technical exchange meetings with Dongfeng and China National Heavy Duty Truck. On May 29, the members of the board of directors of the Volkswagen Group Commercial Vehicles were Xerox and Man Trucks. Company CEO Dress visited China National Heavy Duty Truck and aims to expand the continued cooperation of Mann Engine and other projects. At the end of last year, Johnson Controls' high-end commercial vehicle seat brand RECARO began to enter China. Currently, it is cooperating with FAW-rich to produce high-end commercial vehicles. Seat... It can be seen that in the Chinese commercial vehicle market, which has always been dominated by self-owned brand components, foreign-funded parts and components companies are also accelerating their deployment.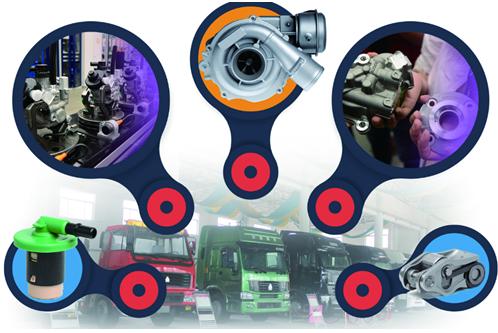 Recently, He Mochi, executive director of the Scania China Strategic Center of the Volkswagen Group's commercial vehicle brand, stated in public: "The new normal in the Chinese auto market is exactly what Scania has been waiting for for many years."
Obviously, under the new normal state, China's commercial vehicles are facing a transformation and upgrading, and the demand for high-end products is increasingly strong. As the high-end trend of commercial vehicles is gradually approaching, the new market form that foreign-funded parts and components companies are looking forward to has become prominent. This is a good opportunity for them to invade the commercial vehicle market in China.
Commercial vehicles accelerate high-end

According to statistics, from 2010 onwards, the demand for high-end heavy trucks in China will increase at a rate of 1% per annum. It is expected that after 2020, the market share of high-end heavy trucks in China will reach over 10% of the total heavy trucks.
Recently, Xu Changming, director of the Information Resources Development Department of the National Information Center, pointed out the reasons for the acceleration of the high-end trend of commercial vehicles. He believes that, first, from the perspective of demand, China's per capita GDP is still growing rapidly, resulting in commercial vehicle purchase capacity, the value of transport materials, the driver's demand for cars will constantly upgrade. Second, from the perspective of production, China's economy has already ended its factor-driven (completely dependent on price competition, low-cost, and low-quality) and entered the efficiency-driven stage. Now it is driving the transition to innovation. Third, under the pressure of environmental protection and energy, the requirements of China's fuel limits and emission regulations have become increasingly stringent. These regulations are one of the main reasons for the acceleration of high-end commercial vehicles in China. In addition, high-end commercial vehicles are more in line with current social needs in terms of environmental protection, energy saving and comfort.
The reporter found that, apart from emission regulations that forced the upgrade of engine technology, China's commercial vehicle companies are gradually becoming more intelligent and informatized in improving their product advantages. Many trucks are equipped with such products as GPS navigation, intelligent touch screens, and car networking systems.
The core components have used foreign brands

"Originally when we implemented the National Third, our emissions system purchased its own brand, and now it basically uses foreign brands. The country's five even-implemented national five-emissions standards make us realize that we must be 'flawless.'" Recently, Xia Hong, vice president of Valin Xingma Automobile (Group) Co., Ltd., interviewed this reporter, said that the current high-pressure pump, common rail and post-processing systems for most commercial vehicles in China are purchased from Bosch or Delphi. solution. On March 23rd, Wang Shihong, general manager of North Benz, stated at the Test Transmission Conference of Fast Auto Transmission that the automatic transmission is the mainstream of supporting commercial vehicle development in the future. It is reported that Fast's AMT automatic transmission was jointly developed with WABCO.
More and more heavy truck companies tend to purchase higher-end parts and components, as do light-duty truck companies. At the end of May, Pan Zhongde, general manager of Anhui Quanchai Power Co., Ltd., said in an interview with this reporter: "After the implementation of the National Fourth, the price of light trucks has generally increased by 10,000 to 20,000 yuan. The increase in customer expectations for product quality has spurred light trucks. Enterprises must procure parts with better quality." He told reporters that the cost of QuanChai five light truck engines has approached joint ventures, mainly because everyone's core components come from the same foreign suppliers. "Most foreign-funded parts and components companies have entered China very early. In the past two years, foreign-related spare parts companies such as Bosch and Cummins, which are related to emission upgrades, have seen a particularly significant increase in the Chinese market." Kunshan Longzhong Maishigeru Automobile Parts Co., Ltd. Company GM Yang Hongli told reporters that Bosch diesel common rail system and post-processing system almost monopolized the Chinese commercial vehicle market. Rolf Bu-lander, Chairman of the Bosch Automotive and Intelligent Transportation Technology Business Unit, said that in 2014 Bosch's global diesel system sales growth exceeded 20%, and China is the most important growth market.
Due to the upgrading of product technology, the high-end commercial vehicles are currently being used. Cummins, Bosch, China, WABCO, Eaton, Federal-Mogul, Honeywell and other foreign suppliers of spare parts have outperformed the Chinese market in terms of development speed. Han Tailing, president and CEO of Honeywell Transportation Systems, told reporters that Honeywell had made more orders in 2015. Zhao Wei, manager of ignition system engineering at Federal-Mogul (China) Co., Ltd., told reporters that the ignition system is basically dominated by foreign-funded enterprises. Federal-Mogul is supporting most of the domestic engine companies such as Xichai, Yuchai, Weichai, and CNHTC, and its market share in 2015 will grow significantly. WABCO's growth in the Chinese market has also been rapid over the past few years. In the first half of this year, WABCO's electronic braking system (EBS) was equipped with more than 1,000 units on Beijing buses. Yu Sujie, president of WABCO China, predicts that sales in China will exceed the market average in 2015.

The time for a full invasion

The price of imported high-end heavy trucks is generally more than one million yuan, which is rarely used before. As a result, Volvo and Scania's heavy truck sales in China are very limited. The market share of commercial vehicles in China is far below expectations for foreign-funded spare parts companies. Eaton's clutches and transmissions are of good quality, but the Chinese commercial vehicle market has been tepid. In fact, some foreign-funded parts and components companies are not satisfied with China's land and water.
But now, foreign-investment parts companies have discovered that it is time for large-scale invasion of China's commercial vehicle market. China's commercial vehicle market is the largest in the world. Schaeffler, WABCO, Eaton, Federal-Mogul, Honeywell, Valeo, Johnson and other parts suppliers are undoubtedly optimistic about the "China's high-end commercial vehicle market."
Yang Hanbing, president of the Schaeffler Automotive Division in Greater China, said: "The Schaeffler Group has leading products and solutions in the chassis, transmission and engine sectors of trucks and can become a reliable partner for heavy truck and commercial vehicle companies in China." Since then, Schaeffler has been to Dongfeng, China National Heavy Duty Truck to promote transmission and other products. Eaton also created a number of products such as automatic transmissions and clutches for the commercial vehicle market in China this year.
Johnson Controls has dominated the Chinese car seating market. The high-end commercial vehicle brand RECARO, which is owned by Johnson Controls, chose this opportunity to enter. It is surely aimed at the increasingly high-end Chinese commercial vehicle market, just like other foreign-funded parts companies.
Our company provide professional technical service for German Voith couplings, German Voith Couplings Overhaul, Geared Hydraulic couplings overhaul, Voith Coupling Maintenance for owned power plant.

Besides, we are specialize in comprehensive solution proposal of energy saving transformation for boiler feed water pump in thermal power plant.
It is true that the powr consumption rate of T-BFP is higher to M-BFP, so there is a requirement to transform the M-BFP, in order to decrease the station service power consumption rate:
The methods of transformation include the followings:
1. transform the M-BFP to T-BFP
2. transform the Hydraulic Coupling
3.transform the BFP
4. transform the speed adjusting mode of M-BFP. That means changing from the hydraulic coupling speed to frequency conversion.
And do you know which is the best method? And how to transform?
Please contact us directly if you are interested in this project.
Voith Coupling
Voith Coupling,Voith Turbo Coupling,Rigid Coupling,Hydraulic Coupling
Shenyang German Machine Hydraulic Transmission Machinery Co., Ltd. , http://www.hcouplingc.com