China's economy has entered a period of stable growth, and the intensity of domestic market competition is no less severe than that of international developed countries. Under such circumstances, users are increasingly demanding the convenience and efficiency of products, not only limited to technologies and products, but also to pre-sales and sales. China's and post-sales comprehensive service capabilities and overall strength requirements are getting higher. Service branding and network intelligence have become the focus of many companies' strategic development plans.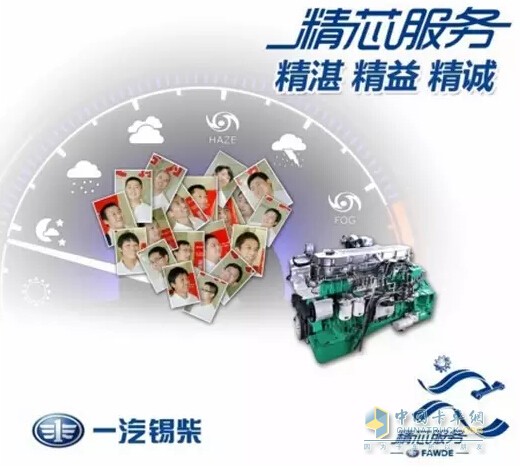 FAW Xichai Services
Knowing how hard it is, FAW Xichai , as a veteran diesel engine manufacturing company, how to seize the opportunity of the "Internet +" era in the rapidity of innovation to stand on the forefront of the industry? In terms of building overall strength, what are the implications of xichai? How to maintain it? With continuous improvement in service, with these questions, we approached Xichai to learn more about the superior multi-dimension and comprehensive service system displayed by Chinese power brands that are deeply loved by domestic and foreign users.
Two-pronged innovation service should be "changed"
With the opening of the Internet+ model, the key words for development in all walks of life are "cross-border integration" and "innovation and transformation". At this time, service is not only a form of performing duties, but also an initiative, which is extremely rich in meaning. This is especially true for the needs of internal combustion engine users.
"After many years of exploration and summarization, we have profoundly recognized the importance of providing comprehensive services to users." Li Qianyang, executive vice president of FAW Xichai Sales Co., pointed out: "In the era of Internet+, the market is changing rapidly, and the needs of users are changing. The core service should be 'changed' with multidimensional innovation, allowing users to enjoy three-dimensional, professional, and intelligent services."
He believes that while focusing on hardware construction, Xichai never neglects the in-depth research on customer demand individu- als and takes both hardware and software into consideration. Specifically speaking, it will promote the hardware construction of products, technologies, quality, and delivery speeds in an orderly manner, and make efforts to respond to customer's timely and professional responses, continuously innovate service models, and lead customers' needs, and make efforts to improve the technical quality. To closely match the needs of users and deep market demands. Service hardware and software upgrade go hand in hand to improve the efficiency of its own production and operation, but also allow users to fall in love with Xichai's "core service" brand, training a large number of car up to people, die-hard fans.
It is reported that up to now, Xichai has set up 1918 service stations, 27 accessories center libraries, 78 franchised stores, and 37 special distribution departments throughout the country. It has countless professional service personnel and has specialized in labor division. With long-term maintenance service experience, you can quickly respond to customers and provide attentive service to ensure that users can get the most professional services with the least amount of time and effort.
Previously, when the FAW Xichee Yungui Service Center was formally established, Deputy Director Xichai Jiyi explained: "We have not forgotten our minds, 'Initial Mind' is the trust, recognition, and support of our customers. It is also our utmost pursuit of excellence. We will build a multi-dimensional "core core service" and create a unique competitive edge for Xichai. The Yungui Service Center is the first service center of Xichai. It is the starting point, and service centers in other regions are being established. The plan is to advance in an orderly manner and the ultimate goal is to set up 30 service centers nationwide.The establishment of a regional service center will play a good six major functions, namely the exhibition center of Xichai products, the display center of the meticulous service, and the handling of difficult problems. Center, training center for maintenance skills, support center for service technology, and promotion center for service activities."
Professional smart service with "line"
In the eyes of FAW Xichai's "Core Care Service", the best service is to always pay attention to users, provide users with beyond-imagined forward-looking technology, high-quality products, and fast troubleshooting solutions to provide users with a pleasant surprise experience. It brings huge added value.
According to Li Yan, vice president of FAW Xichai Sales Co., Ltd., whether it is in the aspect of engine products or the entire internal combustion engine application field, the current domestic users' service requirements include professionalism, energy-saving effect, maintenance work efficiency, and personalized service. aspect. Among them, for different types of users, to provide professional services, will be very targeted to help users solve practical problems, relieve worries, such services can receive the true trust of users and long-term follow.
In response to cooperation with OEMs, Xichai has improved service quality, dispatched workers' needs, communicated in a timely manner, and quickly solved unexpected problems. The cooperation was quite tacit and many domestic and foreign OEMs fully supported Xichai's service capabilities. The products that HeLi introduced have a high degree of attention in the market and triggered the market for trucks and non-road machinery.
For end users, Xichai always focuses on improving customer satisfaction, and promises to complete service response, full-cycle service support, genuine parts and service network within a limited time. This time, riding on the "Internet +" Dongfeng, Xichai intelligently upgraded its services. In the pre-sale, in-sale, and after-sales service lifecycle, it provides users with a 24-hour service hotline and builds a "smart Xichai" service app. Platform, perfect service network, timely response to service, advanced service equipment, adequate spare parts, professional enthusiasm for the maintenance team, etc. One-stop service: "10 minutes of response, dispatch completed; service staff and vehicle within 1 hour; 8 hours Service is in place (general area), the city is in place for 2 hours; 72 hours to solve major problems, the general problem is resolved on the same day."
Smart upgraded version of the "core service" in the end is good or not? First-line users such as truck drivers have the most say, Mr. Zhang, Jiangsu Suqian is one of them. When talking about Xichai's "core service," he even said three praises.
"Six years ago, I began to use the Liberated J6 truck equipped with the Xichai CA6 DL2 engine. Nowadays, Xichai's quality is trustworthy. The core service is more professional and efficient. It is convenient and reliable, and it is also very human. Since joining Regarding engine maintenance and maintenance knowledge training, I was extremely attentive in terms of power maintenance. I also developed a good habit of idling at a speed of 5 minutes after starting the vehicle and turning off the engine, and insisted on going to the formal after-sales service. I also used tin. Firewood accessories." He told us: "Last year, my son helped me to pay attention to the WeChat public platform of Xichai. When I took a break, I took a look and looked at Xichai's latest product offers, service days and other activities. Dynamic, I remember once grabbed a cash bonus, I was really happy for a few days. I also downloaded Xichai app, the last time out of the car, unfamiliar, looking for Xichai accessories store, directly with the app positioning After searching for the address of the nearest Xichai accessories store, one-touch navigation arrived, which is really time-saving and labor-saving.Yes, now, my liberation car has reached million in size. There are no major repairs."
The user's approval, the driving force for advancement. Vice President Li Yan of FAW Xiehai Sales Company told us: "In the future, the three-dimensional, professional and intelligent service is an important indicator to test the soft power of enterprises. We will keep pace with the times and improve our service soft power in a timely manner to provide users with Exclusive service experience."
Grasp the pulse of the times, jump out of everyday thinking, and conduct forward-looking multi-dimensional layout, I believe that FAW Xichai core service will continue to explore and upgrade in the pursuit of excellence, to ensure that users travel anywhere, anytime, in a constantly changing environment. Industry leading edge.
Cnc Aluminum,Machining Aluminum Parts,Aluminum Cnc Machining Part,Cnc Aluminum Alloy Parts
Huaying Chuang Precision Machinery Co., Ltd. , https://www.hycmetal.com